The Plan Highlights enable the counselor and student to view what the schools in the plan offer in better detail. The Plan Highlights contain links directly to the Universities/Colleges site. It allows the student to review the requirements of the school, as well as the aid the school offers.
The counselor will be able to view the Plan Highlights under the ACTION column The following icons will launch the four different Plan Highlights views that College Kickstart offers: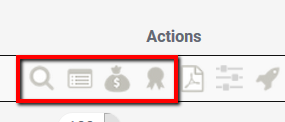 From left to right, these icons will open:
How do I switch between different Plan Highlights views?
For students, the Plan Highlights view will open automatically once they have run a plan. To switch between views, use the drop-down select box on the top right.