Currently, College Kickstart enables counselors to import reports from Naviance, Cialfo, Maia Learning, and SCOIR.

Naviance
In Naviance, open the REPORTS by clicking on the ANALYTICS->REPORTS menu:

You will see the APPLICATION BY COLLEGE report if you scroll down in the section COLLEGE REPORTS:

Just click the VIEW link to view and download a CSV file.

The report will have the following required fields:
Class
Student
College
GPA or WGPA
High SAT 1600
High ACT
Type
Result
WL
Defer
Attending
Cialfo
In Cialfo, the Reports section can be opened from the left menu in your account: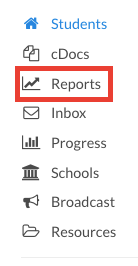 On the "APPLICATION BY COLLEGE" report select the years and click the RUN button. When the report is ready to download the DOWNLOAD button will be enabled and you will be able to download

The report will contain the following required fields:
Class Year
Cialfo User ID
College Name
Unweighted GPA 4.0 or Weighted GPA 5.0
High SAT 1600
High ACT
Application Round
Result
SCOIR
To access SCOIR's reporting tools, go to the REPORTS tab in the main menu and run the APPLICATION AND OUTCOMES report.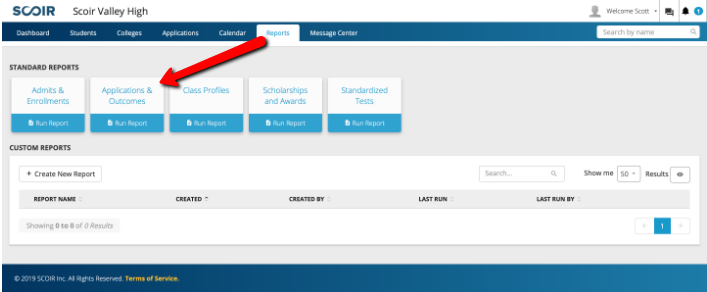 To filter and select a specific year range, click the FILTERS button on the left hand side of the browser.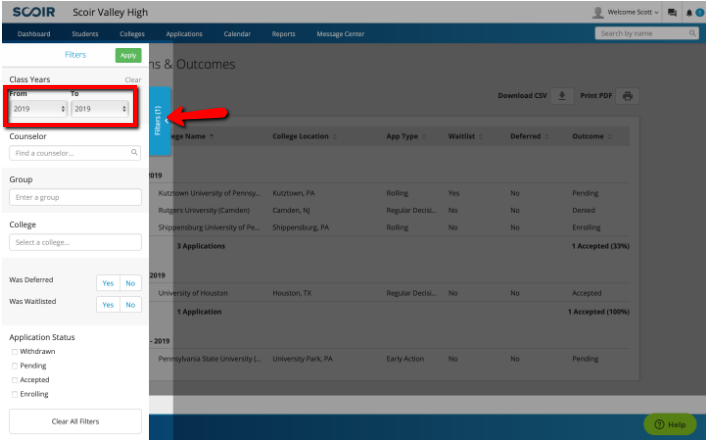 Once you're finished filtering your data and its sort order, you can save a copy for offline use by clicking Download CSV for an editable table.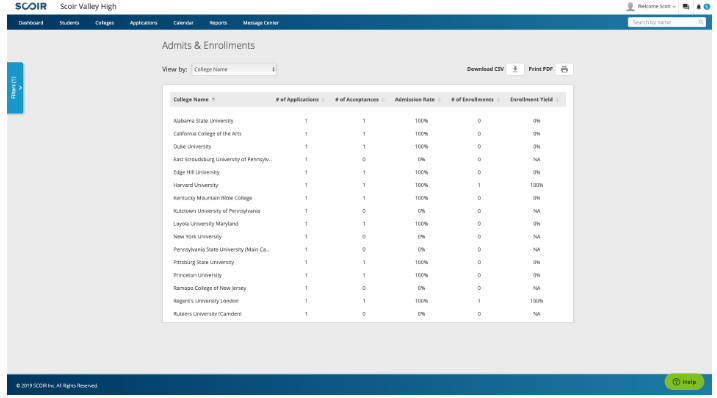 The report will contain the following required fields:
Class Year
Student_ID_HS
College Name
GPA or GPA W
SAT
ACT
Application Type
Deferred
Waitlist
Application Outcome