Availability:
Independent Consultants - Large Practice Solution
High Schools
Before, if a counselor needed to add multiple student accounts, they would have to repeatedly click the ADD STUDENT button and add the student information.

To help counselors be more efficient, College Kickstart enabled a new ADD STUDENT panel on the settings page.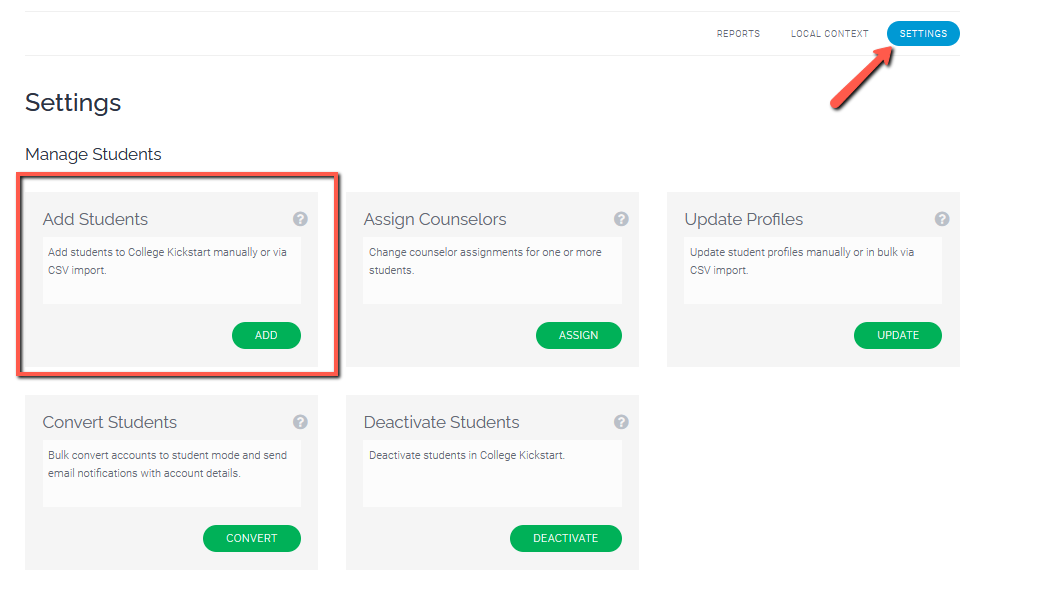 By the ADD button, counselors can view the number of licenses available to create accounts. Counselors have the option to add students' information manually using the ADD STUDENT button or the IMPORT button to upload a CSV file.

Using the ADD STUDENT button, counselors will be required to enter the student's class, first and last name, email, and the email address of the counselor working with the student.

After making all changes, counselors will be able to SAVE DRAFT to save the modification and continue later, DISCARD DRAFT to delete and not save changes or PUBLISH their changes.

Once finished, click the PUBLISH button. You will be required to cancel the process or confirm to continue creating the accounts.

Using the IMPORT button allows counselors to upload a CSV file.

If uncertain of the format, click on the TEMPLATE button to open an excel file with the required fields.

Counselors will get an error if some required fields are missing, incorrect, or if students' accounts already exist.

By clicking the VIEW DETAILS, the link will open a summary of the the issues.

Once all the issues are resolved, counselors can SAVE DRAFT to continue later, DISCARD DRAFT to undo changes or PUBLISH to create the student accounts.