Yes, you can take advantage of several tags we've created to bring up schools with common characteristics. Tags currently available include:
5CC for 5 College Consortium schools
7SISTERS for Seven Sisters schools
ACC for Atlantic Coast Conference schools
AIML schools with strong artificial intelligence/machine learning programs
ASSURED for schools offering assured/guaranteed admission based on academic credentials
BIG10 for Big Ten schools
BIG12 for Big 12 schools
BIGDATA School with strong data science programs
BIGEAST for Big East schools
BUSINESS Schools known for their undergraduate programs
CATHOLIC for Catholic schools
CHRISTIAN for Christian schools (all denominations)
CLAREMONT for the Claremont Colleges
COMMONAPP Schools that accept the Common App
COOP schools with great co-op programs
CTCL for Colleges That Change Lives schools
ENGLAC Liberal arts schools that also have engineering programs
ENVSCI Schools with strong environmental science programs
HBCU for Historically Black Colleges and Universities
INTELNS Schools with strong international relations programs
IVY for Ivy League schools
JESUIT for Jesuit schools
NESCAC for NESCAC schools
NOFEE for schools with no application fee
ORTHODOX for schools set up to support Orthodox Jewish students
PAC12 for Pac 12 schools
PRIVATE for private schools
PUBLICC for public liberal arts colleges
PUBLIC for public schools
QB QuestBridge schools
SEC for Southeast Conference schools
STEM for STEM departments and schools known for their STEM programs
TESTFREE for schools that are test-free
TESTFLEXIBLE for schools that are test-flexible
TESTOPTIONAL for schools that are test-optional
WUE for Western Undergraduate Exchange schools
To find schools using tags, simply click on the tag icon
to the right of "Your List of Schools" on the Profile page.
Once you click on the tag icon, a drop-down menu of shortcuts will appear that will help you add schools to your list.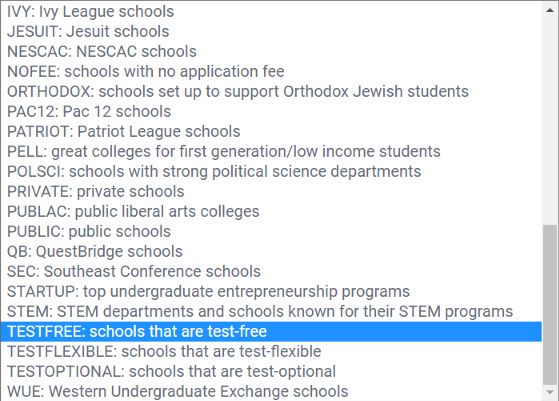 Or you can type the tag in the search field entitled "Enter your college name here" in the Profile Tab.