AVAILABILITY
Independent Consultants: Accounts with 10 or more students
Independent Consultants - Large Practice Solution
High Schools

Clear and consistent communication is vital to a positive college planning experience, and it's time-consuming to create and update all of the documents necessary to keep everyone informed.
Now, you can streamline the process and easily create a personalized plan for each family. Share the big picture and nitty-gritty details with a custom plan that includes each student's data-driven reports, as well as your own insights.
These personalized plans can help you keep everyone confident about the process and on the same page. They're designed to be included in the letters that you send to families in the summer and in all of the updates you share along the journey.
Each student's plan includes the reports listed below, and it's more than just the facts: the plan also includes your own comments – notes about your unique insights, kudos, and encouragement for improvement. Creating the report is as easy as downloading a PDF, and the finished product is a school-branded professional report.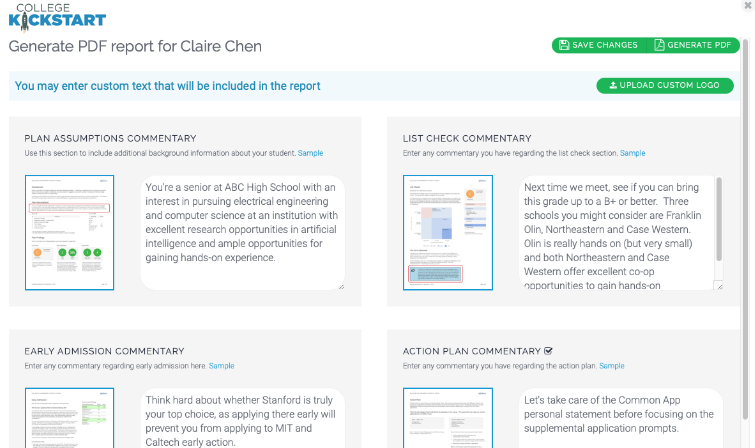 What is included in this personalized report?
Cover Page

– High school's logo, student name, and counselor name

Introduction

– Includes brief intro about the report, the student's current college list, student's current academic credentials, and plan highlights summary.

List Check

– Shows how schools are categorized based on school selectivity and student academic performance.

Early Strategy

– Summarizes early admission strategy for all schools on the student's list, along with supporting commentary.

Action Plan (optional)

– Recommends an action plan designed to minimize wasted motion where possible.

Appendix (Plan Summary

) – Provides summary information for each school in the student's list.

Appendix (Key Application Requirements)

– Highlights key application requirements, including standardized testing, recommendations, interviews. Includes count and sizing requirements for short answer and essay prompts.

Appendix (Need-based Aid)

– Side-by-side comparison of need-based financial aid programs offered by each school in the student's list.

Appendix (Merit-based Aid) – Side-by-side comparison of merit-based financial aid programs offered by each school in the student's list.