What is College Kickstart?
College Kickstart is a web application designed to help you craft a winning college applications plan. Given the list of schools that you have in mind, College Kickstart makes planning easy by ensuring your list is balanced, capitalizing on early admission, and maximizing efficiency. It will also allow you to consider affordability constraints and merit scholarship opportunities.
College Kickstart uses your list of colleges and your academic profile to make recommendations. You can use these insights to fine-tune your college list and to spark conversations with your family and college counselor. Ultimately, College Kickstart empowers you to take charge of your college planning.
Getting Started
This article will help to walk you through the steps of using College Kickstart from creating an account, running Kickstart on your college list, and reviewing the results.

If you need any help using College Kickstart:
look for the Help search on every page
Your account

1. Look for the College Kickstart email.
You will receive an email from College Kickstart with your login credentials and key information about your plan. If you don't see the email in your inbox, make sure to check your spam folder.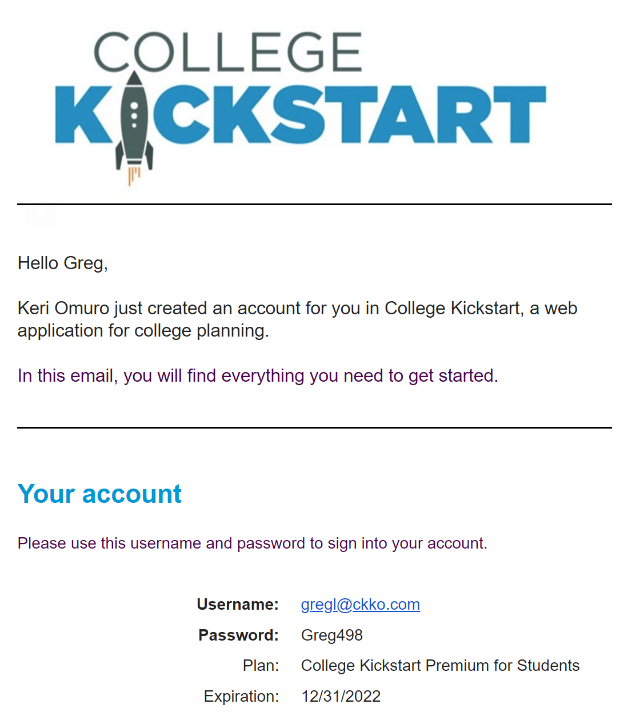 ---
2. Make sure to record your login information, and navigate to the College Kickstart page: www.collegekickstart.com

At this time, you cannot set your own password or change your username/email.
NOTE: If your college counselor set you up with access to College Kickstart, they will be able to view your account, but cannot make any changes to your plan.
RUNNING COLLEGE KICKSTART
Your profile
Starting from the Profile section, you can: 1) enter your list of colleges, 2) enter your academic profile, and 3) run Kickstart.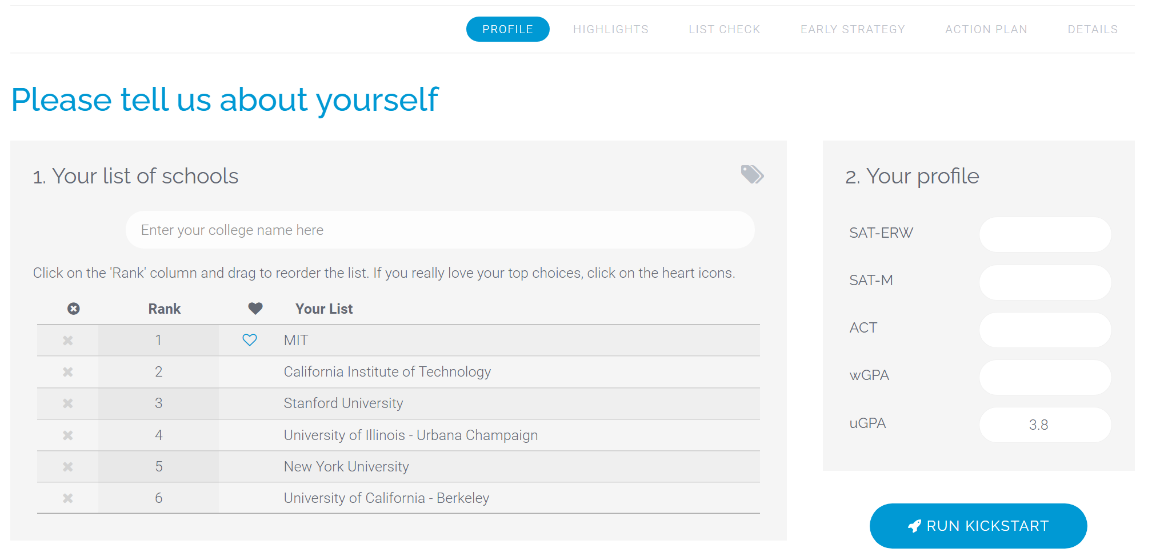 1. Complete your list of six or more schools.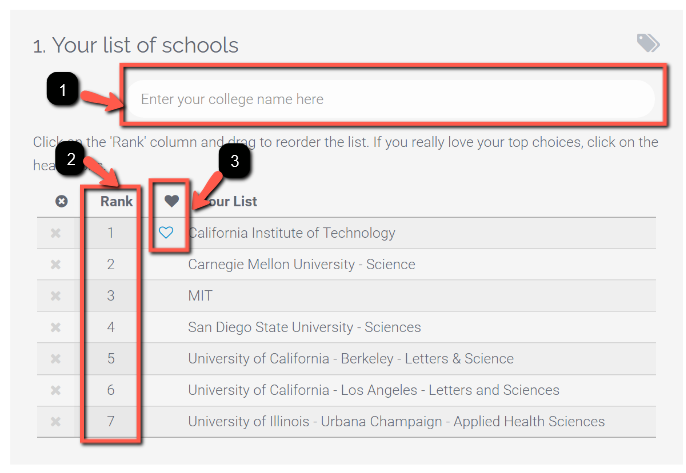 Start typing in the search box to find the colleges and universities that you are considering.

The text box is search-based and includes aliases for institutions. This means you can type UCSD instead of typing the University of California at San Diego.
The tag icon () in the top right corner is an extra feature that filters the displayed schools by common characteristics. Refer to this article for details: Are there shortcuts for adding schools to my list?

If a school that you're interested in is not in College Kickstart's database, please let your counselor know.

Put the colleges in order of your preference
Use the heart icon if you really love your top choices and are committed to attending if accepted.
2. Complete your academic details.
At a minimum, you need to enter a standardized test score (SAT or ACT), GPA, or rank.
3. Click RUN KICKSTART to start the analysis.

You can review the results in the next sections.
Highlights
The Highlights section will provide a quick snapshot from Kickstart, showing key takeaways from the list check, early admission strategy, and action plan sections.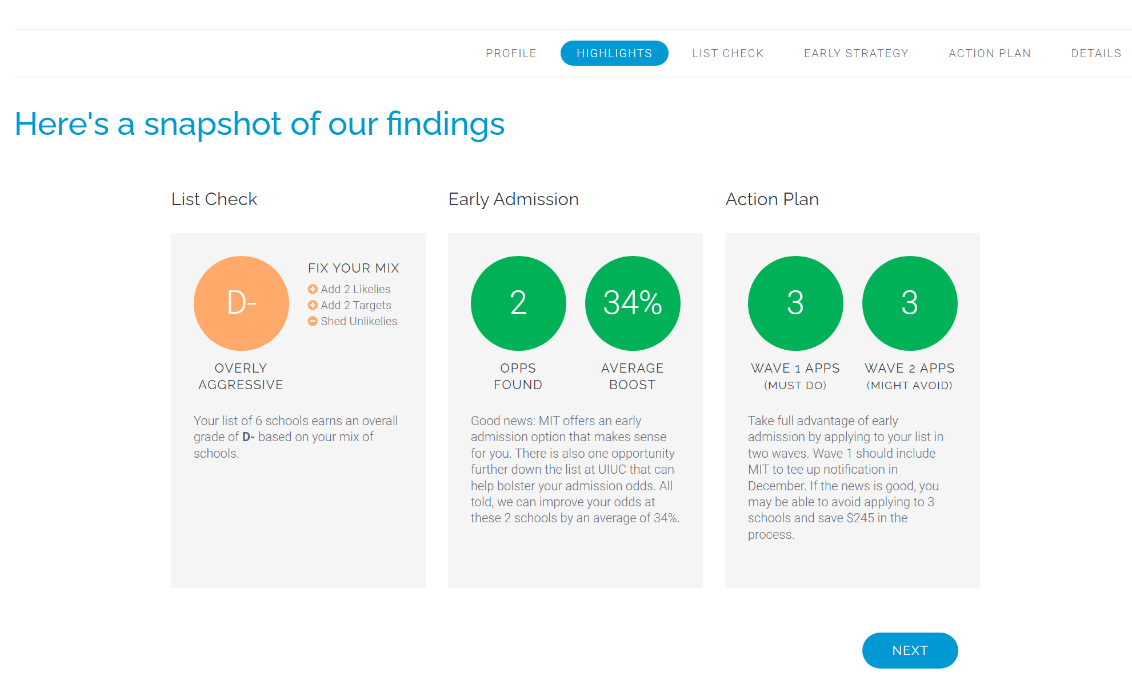 List check
The list check section reports the results of College Kickstart's algorithm determining how well your school list is balanced. There are three key components available in this section: 1) the actual list grade, 2) details of the analysis, 3) a feature to help identify schools and improve balance of your list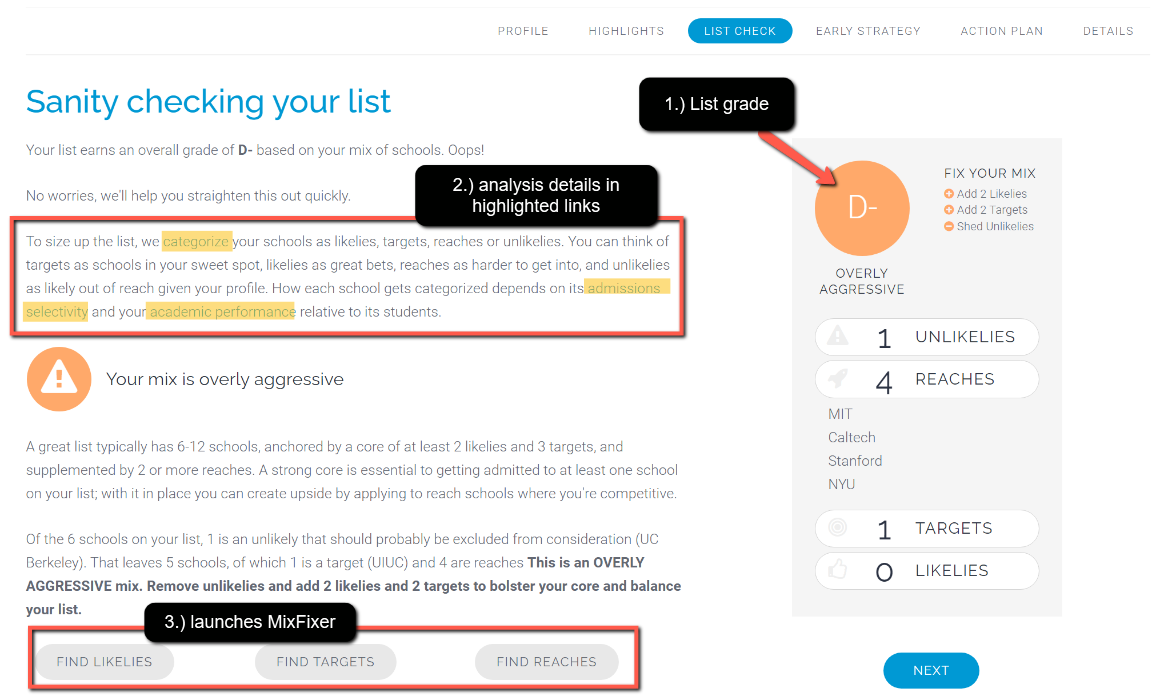 1. Review your list grade.
College Kickstart uses your academic profile and the admission selectivity of your schools to assess the balance of your list. Each school is categorized as an unlikely, reach, target or likely school, and the resulting mix is graded for balance. To see where each school is categorized, click on the category to expand the list.
2. Check the analysis details.
If you are interested in viewing more information, you can click the categorize, admissions selectivity and academic performance links highlighted in the paragraph.
3. Balance your list with MixFixer™.
To launch MixFixer™, click either FIND LIKELIES, FIND TARGETS, or FIND REACHES buttons at the bottom of the page.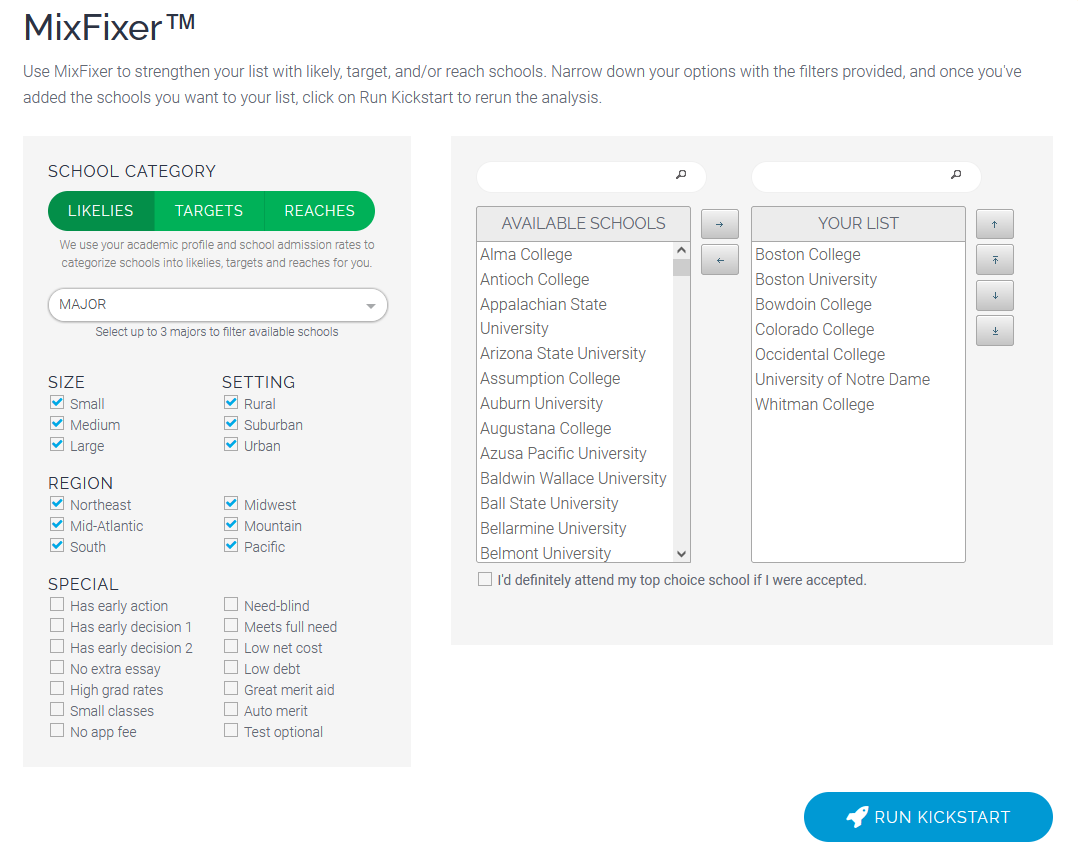 A list of all schools that would be Likelies (or Targets or Reaches) for you is presented in the AVAILABLE SCHOOLS list, which can be filtered using the settings on the left. You can add these schools to YOUR LIST, and then click RUN KICKSTART to reanalyze your new list of schools.
Early admission strategy
The concept of early admission is simple: you apply early, you hear back early. The key insight is that by applying early, competitive applicants can significantly improve their odds of admission at most schools.
Not all schools offer early admission, but those that do will typically offer some combination of the following three options: Early Decision, Early Action, and Restrictive Early Action.
Review your Early Strategy.
College Kickstart tracks early admission statistics and employs a proprietary methodology to recommend the early admission opportunities that you can capitalize on to boost your chances.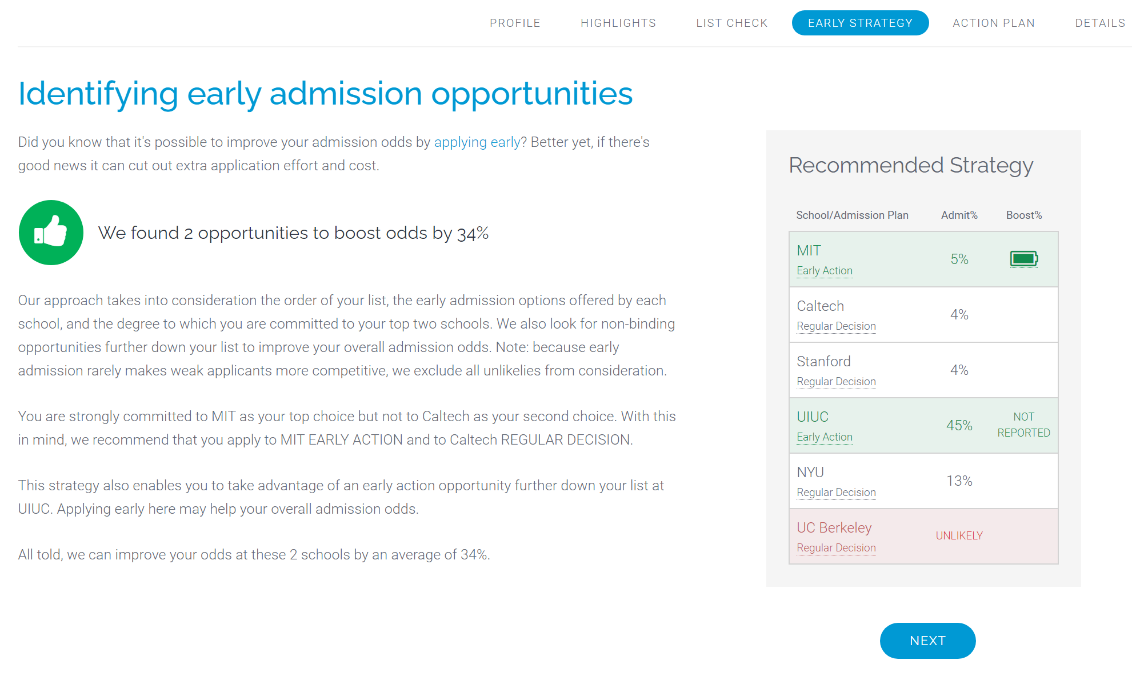 NOTE: This early admissions information will be available in the Summary View afterwards.
Action plan
College Kickstart automatically creates a personalized Action Plan for you, based on your early admissions strategy and the various application due dates and notification dates for each school on your list.
Review your Action Plan.
College Kickstart will split your work into two waves; if you are admitted to one of your Wave 1 schools, you can save both time and money.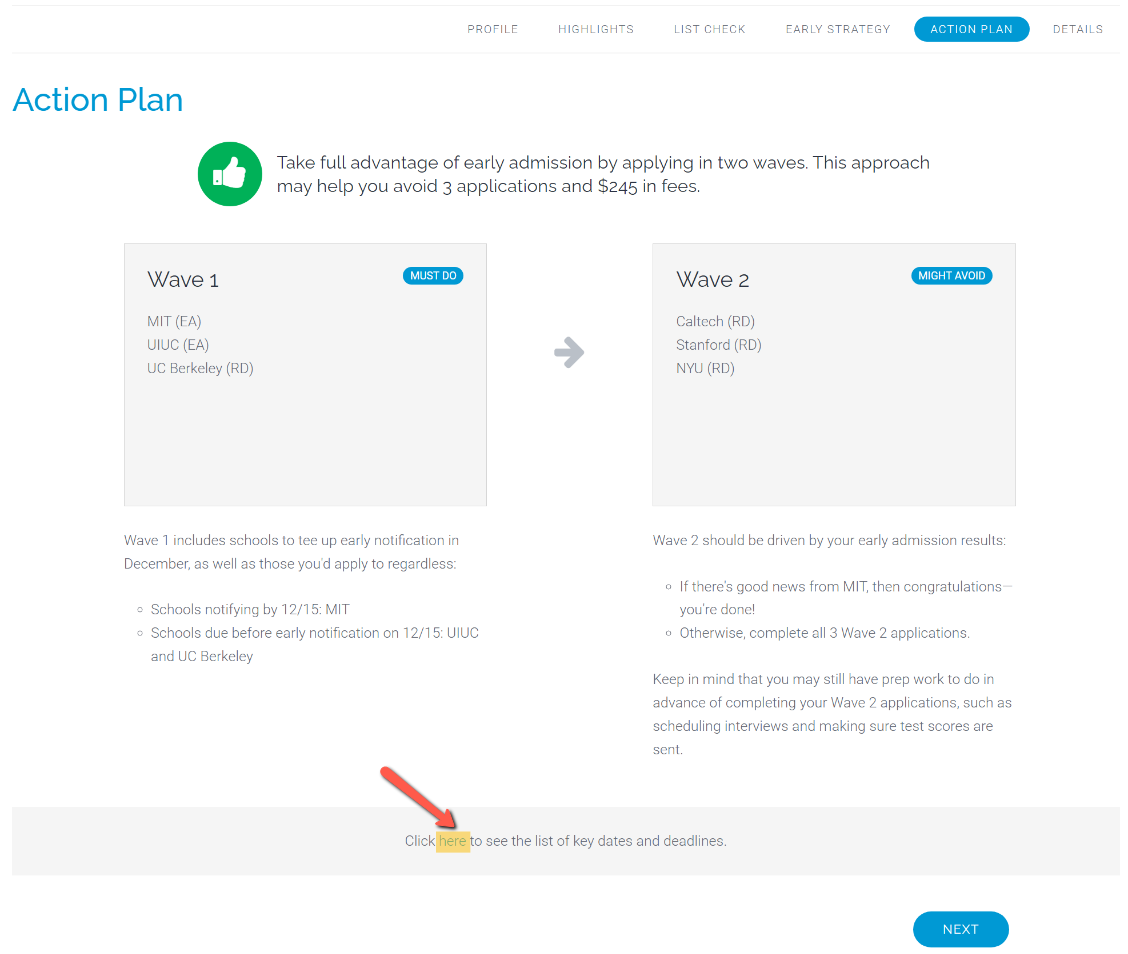 Clicking the highlighted link will bring up a table summarizing key dates and deadlines for each school, sorted by Wave.
NOTE: All action plan information will be available in the Summary View afterwards.
School Details
In this Details section, you can see 1) a summary of previous information, as well as drill down to see the details for 2) the school's application and admission rates, 3) your relative academic strength, and 4) financial aid for each of your schools.
Importantly, this section also provides recommendations on standardized testing score submission based on your academic profile.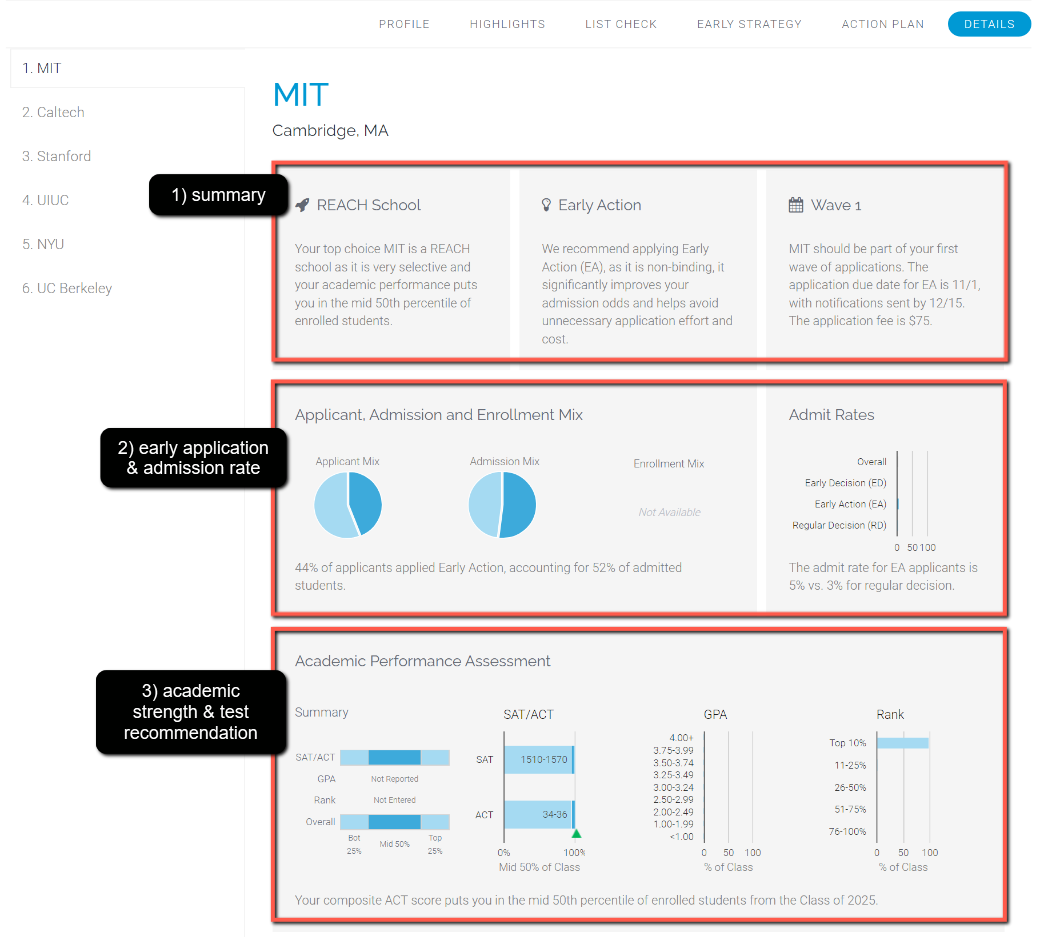 1. Review the summary.
The top panels provide a brief overview of the information from the list check, early strategy, and action plan for the school.
2. Check the admissions data.
College Kickstart makes use of the most current admissions data for schools. This panel can give you perspective on the selectivity of the school and the boost that early applications can provide.
3. Review the Academic Performance Assessment and standardized testing recommendation.
College Kickstart compares your academic performance measured by standardized testing, GPA, and class rank to the available data reported by the school for their latest attending class.
For standardized testing, a school may be either TEST-OPTIONAL, TEST-FREE (a.k.a. TEST-BLIND), or TEST REQUIRED. When a school offers these test-flexible policies, College Kickstart offers recommendations based on the overall assessment of your academic profile.
NOTE: The Test-Optional recommendations will be available in the Summary View afterwards.
Not all colleges report specific academic performance for their entering classes, and in this case a comparison is not possible. A red message will appear with details.
4. Review the affordability data.
AVAILABILITY:
Students and Parents Premium plans
Students enrolled through an Independent Consultant or a High School

When the school reports it, you can also see need-based and merit-based financial aid information.
COLLEGE PLAN HIGHLIGHTS
After running Kickstart, you can review the details of your current college plan. Click MY PLAN in the top right menu. Alternatively, the next time you launch College Kickstart, you will start on the Summary View.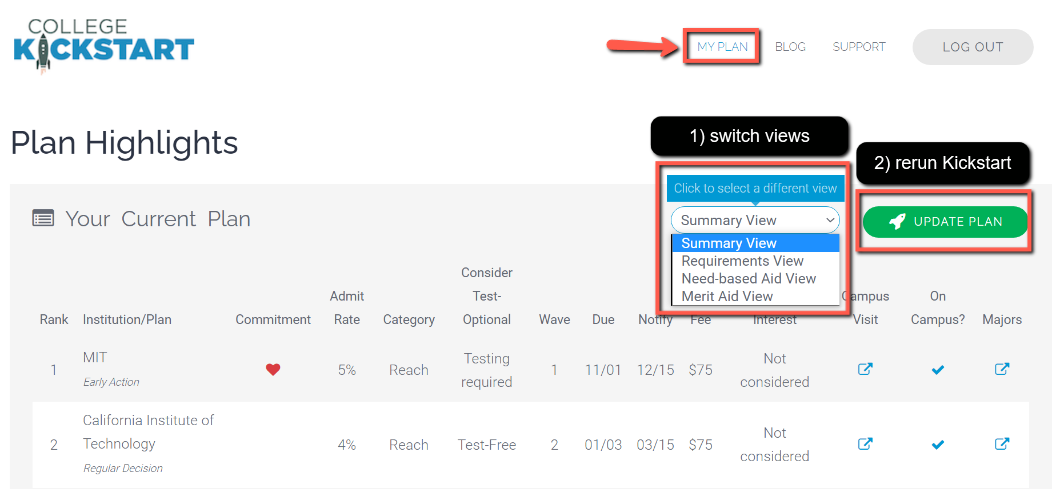 Use the dropdown menu to switch between the different views:

Summary, Requirements

,

Need-based Aid

, and

Merit-based Aid

.

If you want to change your college list or update your academic profile, use Run Kickstart. Your Plan Highlights will automatically updates each time.
What information is included in the different views?

The views are briefly described here. Each title links to an article describing the information provided under each view in full detail.
Summary View: school categorizations and recommendations on how and when to apply, information on campus tours
Requirements View: Key Application Requirements including standardized testing policies, recommendation requirements, interview policies, essay prompt counts and direct links to school websites for definitive answers (Plus and Premium only)
Need-Based Aid View: key need-based aid metrics, net cost calculation and proprietary College Kickstart attractiveness rating (Premium only)
Merit-Based Aid View: key merit-based aid metrics, net cost calculation and proprietary College Kickstart attractiveness rating (Premium only)
NOTE: Students enrolled through an Independent Consultant or a High School have access to all views.