College Kickstart is a web application designed to help you craft a winning college plan. Given a list of schools you have in mind and your academic profile, College Kickstart makes it easy by ensuring your list is balanced, capitalizing on early admission, and minimizing wasted motion along the way. It will also allow you to consider affordability constraints and merit scholarship opportunities.
College Kickstart uses your academic profile and list of colleges to make recommendations. You can use these insights to fine-tune your list and spark conversations with your family and counselor. Ultimately, you will be empowered to take charge of your college planning.
If you need any help using College Kickstart:
email support@collegekickstart.com

look for the Help search on every page
In this Getting Started, instructions relate to:

Your account

Your profile

List check

Early admission strategy

Action plan

Admissions and affordability details

College plan summaries

Your account
1. Look for the College Kickstart email. You will receive an email from College Kickstart with everything you need to get started. It will have the link to log in and your password. If you don't see the email in your inbox, check your spam folder.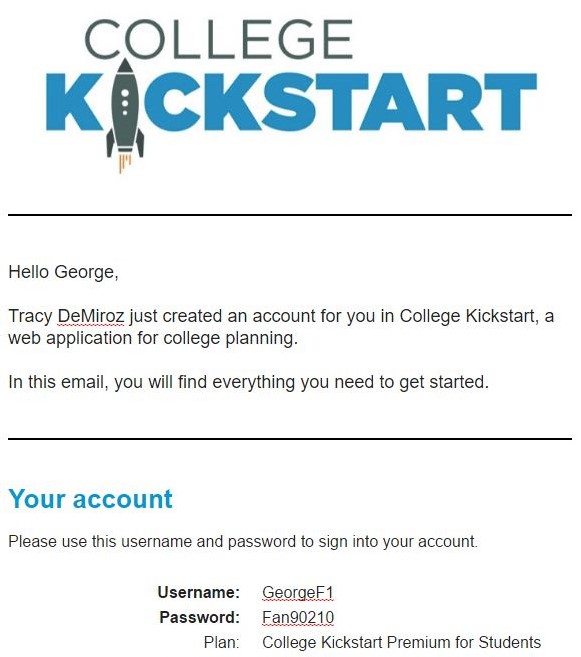 ---
2. After you register, bookmark the College Kickstart page.

3. Your counselor's access. Your college counselor will have read access to your account if they have set you up with access to College Kickstart.
Your profile
1. Complete your list of six or more schools. Start typing in the search box to find the colleges and universities that you are considering. Put the colleges in order of your preference and use the heart icon if you really love your top choices.
Please let your counselor know if a school that you're interested in is not in the program.
2. Complete your academic details. Add your academic credentials. At a minimum, you need to enter a standardized test score (SAT or ACT), GPA, or rank.
3. Run Kickstart. Click RUN KICKSTART to start the analysis.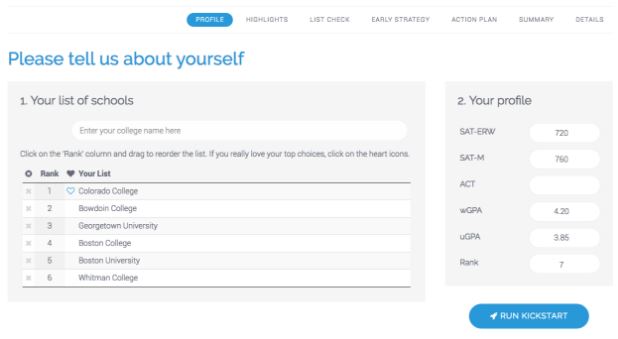 Normally, a standardized test score is required to run College Kickstart. In light of the uncertainty surrounding SAT/ACT testing this fall, we are temporarily relaxing this requirement so that students without test results can use College Kickstart with just a GPA or class rank.
When you run College Kickstart without a test score, a dialog box will appear indicating that we'll attempt to assess academic performance based solely on GPA and/or class rank: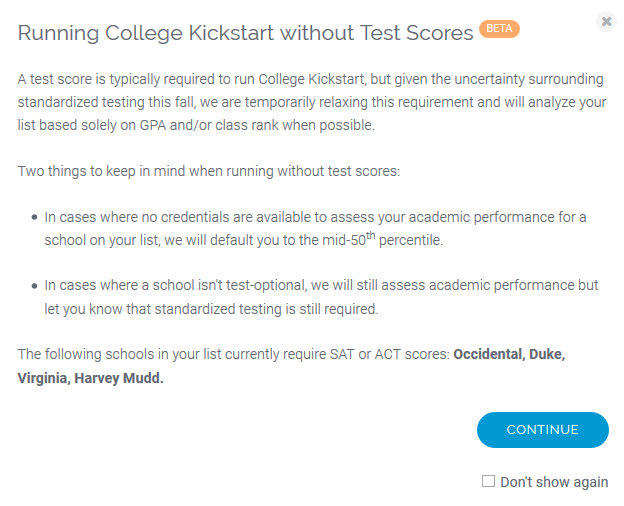 List check
1. Review your list grade. See how College Kickstart used your academic profile and the admission selectivity of your schools to assess the quality of your list. Each school is categorized as an unlikely, reach, target or likely school and the resulting mix is graded for balance. For details, you can click the categorize, admissions selectivity and academic performance hyperlinks.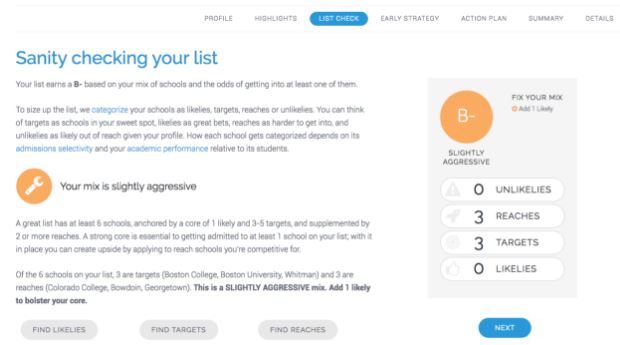 When expanding the Category list, you will see how schools are categorized.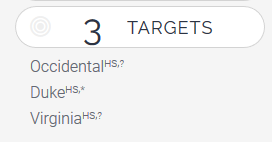 2. Balance your list. Use the MixFixer to balance your list. To launch MixFixer, click either Find Likelies, Find Targets or Find Reaches at the bottom of the page. A list of all schools that would be Likelies (or Targets or Reaches) for you is presented in the Available Schools list. You can add schools to your list and use Run Kickstart to re-categorize your new list of schools.
The goal for a balanced list is to have at least 6 schools anchored by a core of 1 likely and 3-5 targets and supplemented by 2 or more reaches. Use the filters to fine-tune your searches. For example, search for likelies with great merit aid, or a target with no extra essay.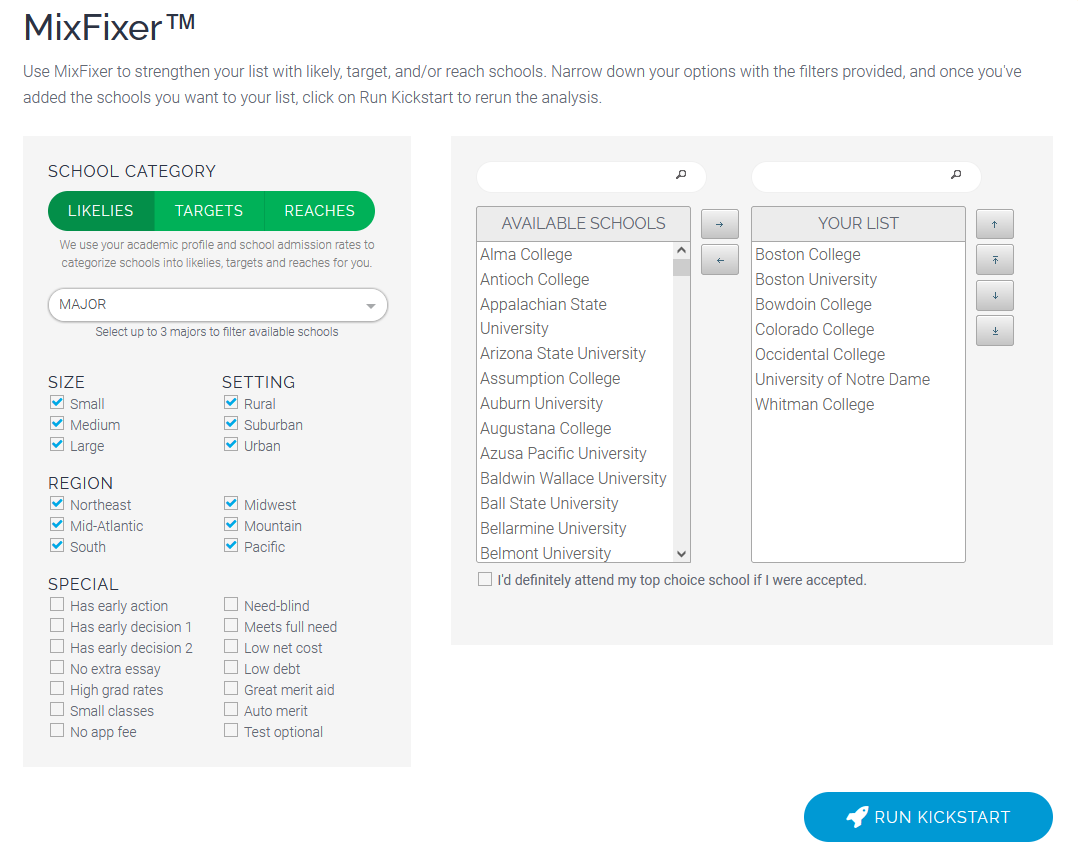 Early admissions
Review your Early Strategy. See how College Kickstart recommends capitalizing on early admission opportunities to help skew odds more in your favor.
The concept of early admission is simple: you apply early, you hear back early. Not all schools offer early admission, but those that do will typically offer some combination of the following three options: Early Decision, Early Action, and Restrictive Early Action.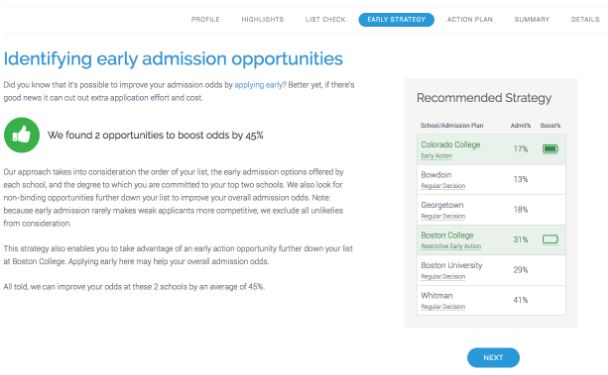 Action plan
Review your Action Plan. See how College Kickstart recommends how to prioritize your applications to minimize wasted effort. In most cases, we're able to come up with ways to help minimize application effort over the holidays and some credit card swipes for Mom and Dad if you're admitted to one of your early admission schools.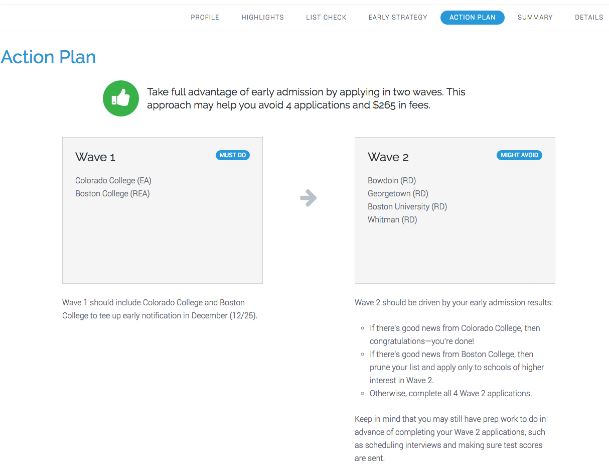 School Details
1. Review admission data. College Kickstart uses the most current admissions data and you can drill down to see the details for each of your schools. Use the Details tab to get more context about how College Kickstart made your recommendations.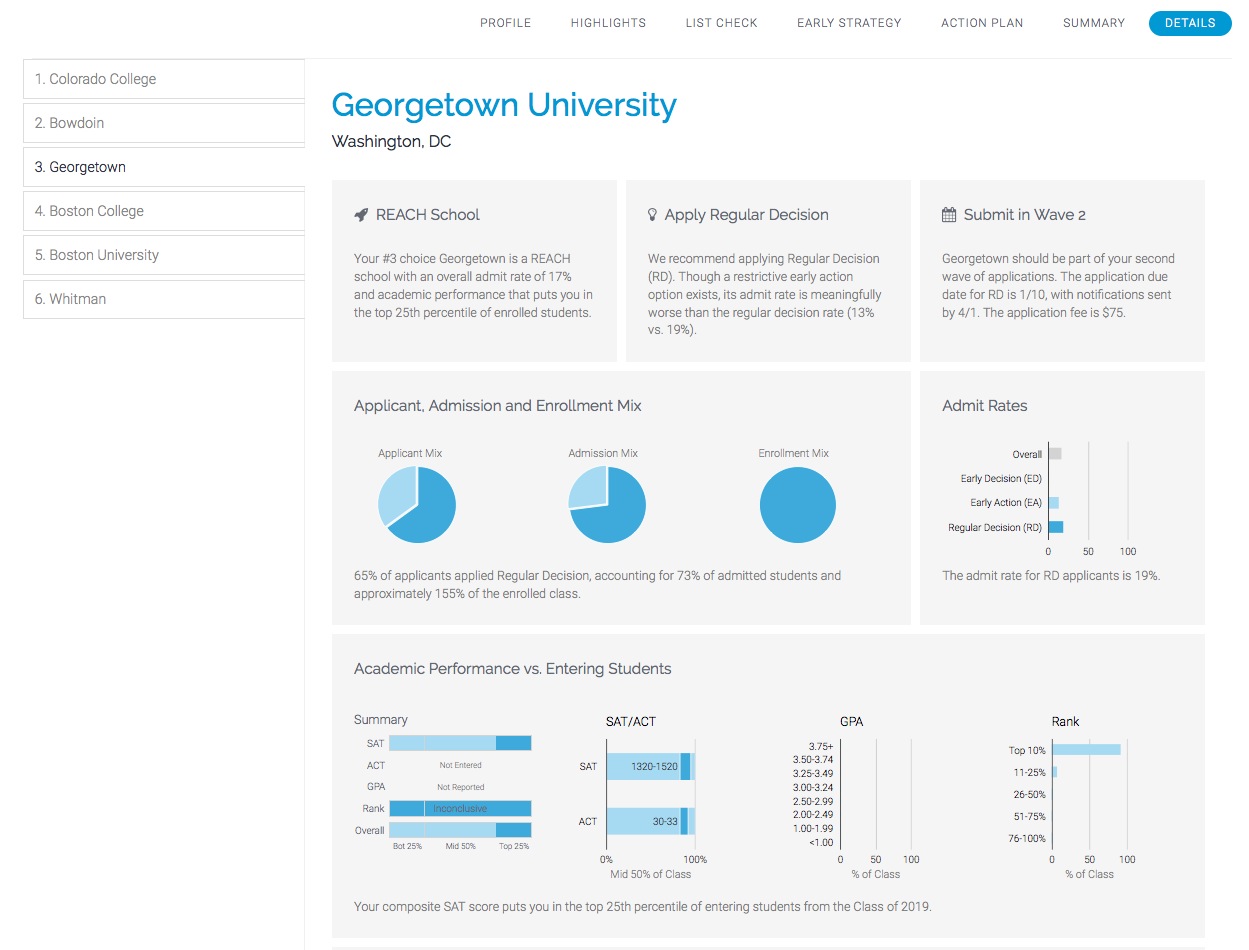 When a school offers test-optional or test-flexible policies, we may suggest considering applying test-optional depending on the overall assessment of your academic profile.

When there are no assessable academic performance metrics available, a red message indicating that there was no way to assess your academic profile and encouraging you to contact your counselor will be displayed.

2. Review the affordability data. When the school reports it, you can also see need-based and merit-based financial aid information.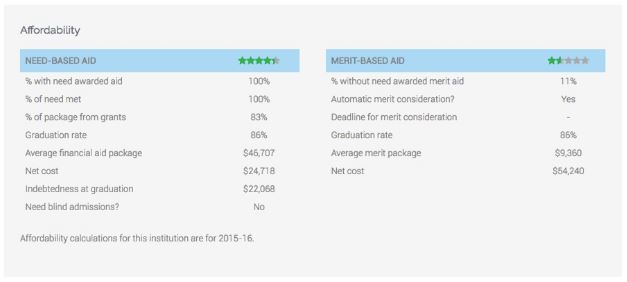 College plan highlights

1. Review the Details of your college plan. To see different summaries of your college plan, use My Plan at the top right near Log Out.
2. The next time you log into College Kickstart, you will land on the Summary view.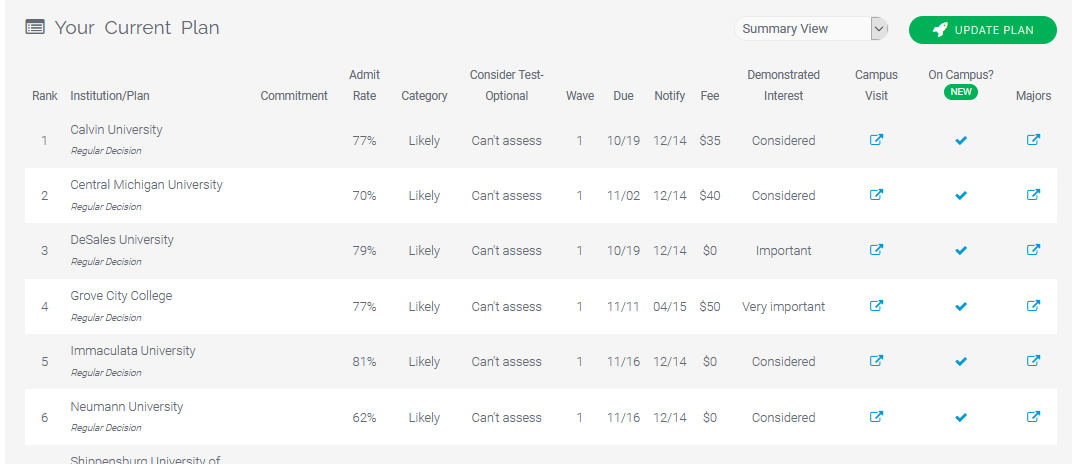 In the SUMMARY VIEW, students will be able to view which schools offer virtual tours (CAMPUS VISIT) and in-person tours (ON CAMPUS?).
3. If you want to change your college list or update your academic profile, use Run Kickstart.
4. You can change the Summary views from overall to Requirements, Need-based Aid, and Merit-based Aid.